NEWS: Wanted: the graphic novelists of the future
FROM THE GUARDIAN: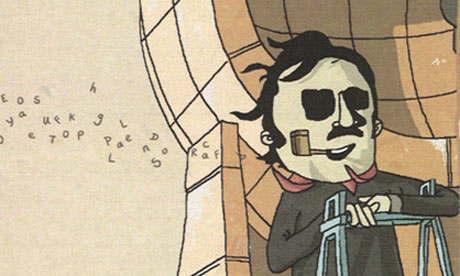 Illustration from the 2008 Observer/Cape Graphic Short Story prize winner, Sand Dunes and Sonic Booms. Illustration: Julian Hanshaw
The Cape/Observer graphic short story prize is now in its fifth year – with entry for the 2011 competition just open – and those of us who have been involved with it from the beginning could not be more proud. It's not only that, over the years, we have had such superb winners, at least one of whom has since gone on to win themselves a publishing contract as a result. (Julian Hanshaw, with the brilliant
The Art of Pho
)
Nor is it that we have always been able to persuade such fantastic judges to help us sort the wheat from the chaff (in past years, Nick Hornby, Posy Simmonds and Mark Haddon were among their number; this year, the novelist David Nicholls joins us). We believe, too, that our prize has helped to bring the form to a wider public, with the result that more and more readers are taking graphic novels seriously – and in turn, of course, publishers are responding to this demand.
Once I would have thought it a tricky prospect, the idea of selecting a graphic novel for review in the Observer every month. These days, it's sometimes hard to choose only one. The books that arrive on my desk are colourful and fascinating and impossibly varied, and they put an end to the lie once and for all that graphic novels, comic strips, call them what you will, are an inferior kind of book, the kind of thing you flick through only if you are lazy, borderline illiterate or a bit of a geek (I used to be guilty of this kind of cliched thinking myself: as I've written before, I had a hunch that graphic novels were only read only by Marillion fans – Marillion fans in sweaty t-shirts in dark bedsits).
The truth is that, at their best, they can do all the things a regular novel can do. We do hope, then, that lots of you will enter this time. We can't wait to see what you do within the confines of our brief; past evidence suggests it will be quite a lot.
The first prize for this year's competition is £1,000 and the chance to see your story published in the Observer Review. For full details of how to enter,
go the competition website
. If you're looking for inspiration, or merely to see the sort of quality we're looking for, go to these galleries where you can read the four winning short stories in full:
2010 –
Stephen Collins, Room 208
2009 –
Vivien McDermid, Paint
2008 –
Julian Hanshaw, Sand Dunes and Sonic Booms
2007 –
Catherine Brighton, Away in a Manger