NEWS: On The Shelves This Week – Thompson, Ennis & Shalvey
Below is a breakdown of what comics are going to be released this Wednesday featuring Irish creators. There are two books from Garth Ennis, a new Hellraiser from Stephen Thompson and a Declan Shalvey cover from BOOM! Studios Betrayal of the Planet of the Apes.
Dynamite Entertainment – The Boys #63


Writer :  Garth Ennis
Artist :  Russell Braun & Darick Robertson
Publisher : Dynamite Entertainment
Diamond code : DEC110969
UPC : 72513018402306311
Book Information: Everything comes to a head at once as Frenchie and the Female take on Team Titanic, Maeve and Annie have a heart to heart and Hughie comes face to face with the reason he joined the Boys in the first place. Vought-American are suddenly ready to parley, but with the White House in new hands and the Homelander's plans finally kicking in, is Butcher in any mood to listen?
Avatar Press – Stitched #1 NYCC Varaint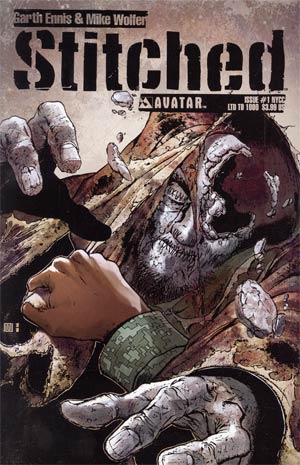 Writer :  Garth Ennis
Artist :  Mike Wolfer
Publisher : Avatar Press
Diamond code : DEC110870
UPC : 82002300767701061
Book Information: Horror artist Mike Wolfer, provides a wickedly visceral Stitched image on this special edition previously only available at New York Comic Con and limited to 1000 copies!
BOOM! Studios – Betrayal of the Planet of the Apes
Writer :  Gabriel Hardman – Corinna Sara Bechko
Artist :  Gabriel Hardman & Declan Shalvey (Cover Artist)
Publisher : BOOM! Studios
Diamond code : DEC110928
UPC : 84428400249300411
Book Information: Hot on the heels of BOOM!'s sold-out, bestselling Planet of the Apes ongoing series comes a brand new four issue mini-series co-written and drawn by Gabriel Hardman (Hulk, Agents of Altas), taking place during the continuity of the original, seminal fan-favorite film! Now on the run, the feared and respected General Aleron must find the one ally in Ape government that can stem the tide of carnage about to crest – for human and ape alike! The conclusion to the not-to-be-missed mini-series!
BOOM Studios – Hellraiser #10 
Writer :  Clive Barker
Artist :  Stephen Thompson
Publisher : BOOM! Studios
Diamond code : OCT110913
UPC : 84428400209701021
Book Information: The startling new chapter in the Hellraiser mythos continues! The whole game has changed, and there can only be one victor! Clive Barker's new take on Hell and the Cenobites continues here, delivering scares like the one and only horror legend can! This is required reading for Barker fans!