HISTORY: Appeal for help – Phil Blake (1869-?)
In the Collins Collection of Irish Political Cartoons there are several cartoons from the Weekly Freeman signed by Phil Blake. He seems to have drawn for the Freeman from about 1898 to 1905, and had something of an Art Nouveau style and a prediliction for drawing somewhat butch-looking women.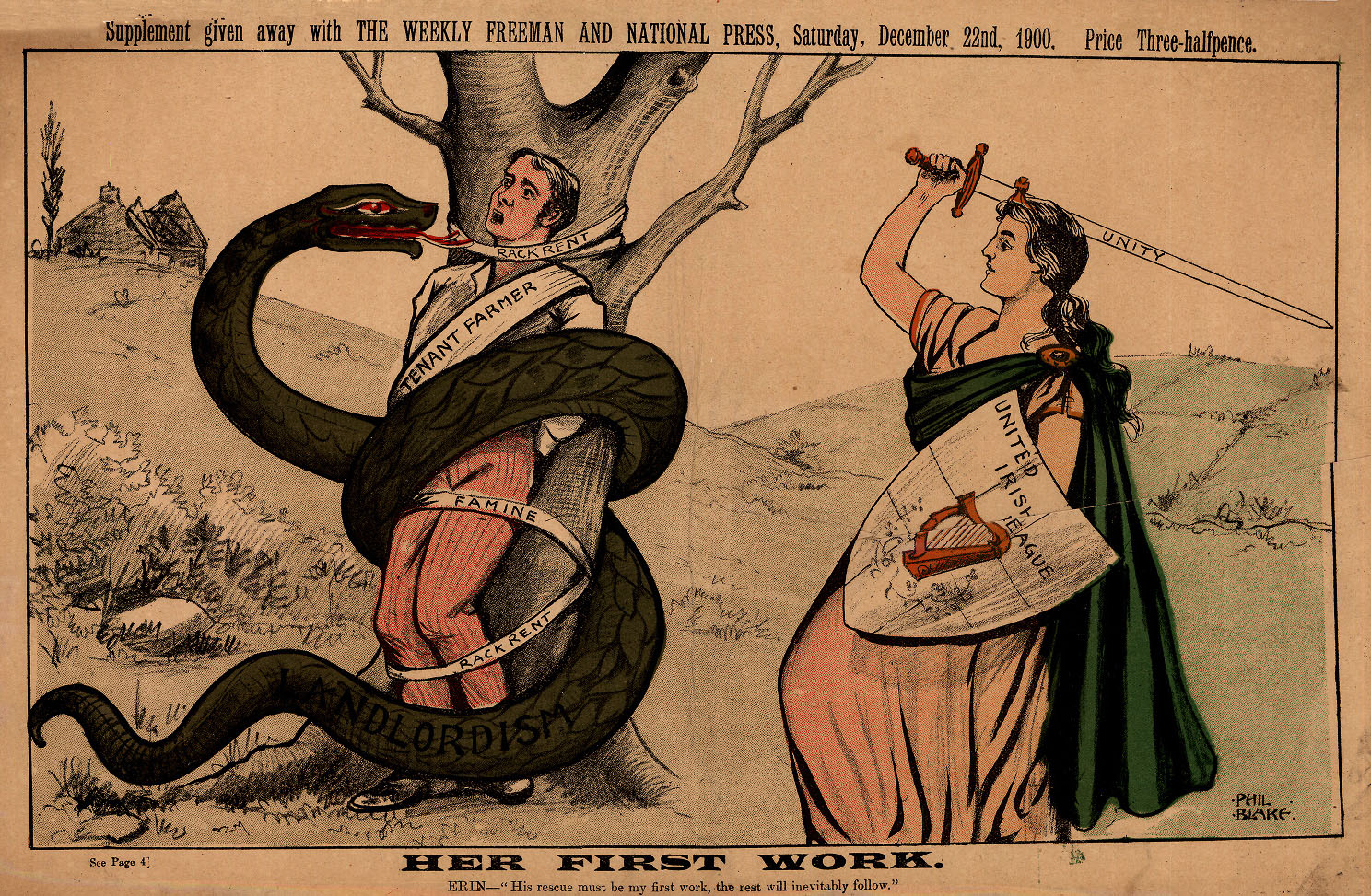 In the cartoon above from 1900 he reverses the standard gender roles, with a square-jawed, sword-wielding Erin, the standard personification of Ireland of the time, rescuing Pat the tenant farmer from the evil serpent of landlordism (compare the one below by John Fergus O'Hea nine years earlier for a more conventional depiction of a helpless Erin being rescued by Parnell – Blake's not in O'Hea's league in terms of figure drawing, but his challenging of stereotypes is striking).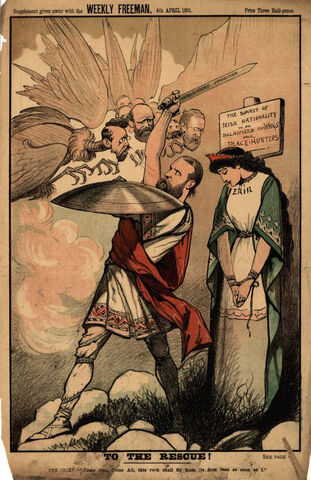 Anyway, Blake seems like an interesting character, but I haven't been able to find out much about him. In the 1901 census he was 32 and living alone in a flat at Leeson Street Lower, Mansion House, Dublin, his occupation is given as "artist, cartoonist, newspaper illustrator, black and white" and his birthplace as Co. Meath. The Mormon genealogy site has a Philip John Blake, born in Castletown, Meath, on 19 January 1869, son of Philip Blake and Elizabeth Martha Cogan, as well as an older brother, Richard Thomas Blake; I've found the family in the 1901 and 1911 census, and Phil's not at home either time, but Richard Thomas is there in 1901, so this looks like the correct identification.
However, There's no sign of Phil in the 1911 census. I've tried the England and Wales census and the Scotland census, but no luck there either. He's either died or gone somewhere else. And I've found, formerly advertised on AbeBooks, an edition of Percy Bysshe Shelley's poem The Cloud, published in Katoomba, New South Wales, Australia, about 1915, illustrated with photographs and "illuminated by Phil Blake & Co. Artists". The chin of the female figure on the cover, below, suggests that this is our man.
And there I'm stuck. I've found a Philip Blake who died in Cronulla, New South Wales, on 18 July 1918  – if this is him he'd have been only 49, but I don't have enough details to confirm or deny this is him.
Two other facts I've discovered. In 1908 he illustrated a novel called The Moneylender by Joseph Edelstein, a "controversial and scurrilous" depiction of Jewish moneylenders in Dublin. And he's namechecked in Joyce's Ulysses, which refers to refers to "Phil Blake's weekly Pat and Bull story" in a chapter about the production of the Weekly Freeman. Did Blake draw a regular strip for the Freeman, or perhaps write and illustrate a regular column? Any Joyceans reading that can help? If anyone can get any information (or even scans) on The Moneylender or "Pat and Bull", whatever that was, you'll have made an invaluable contribution to the history of the cartoonist's art in Ireland, for which posterity, and myself, will be very grateful.
20-7-12 Edited to add: Luke F contacts me on Facebook to let me know that his brother Donal has written a piece on Come Here To Me about Joseph Edelstein, a well-known if controversial figure in the Dublin Jewish community in the early 20th century, including a shot of the cover of The Moneylender from the Irish Jewish Museum!