REPORT: 2012 – The Year Of The Irish Comic Part 3 of 3
In this final part of ICN's breakdown of the 2012 comic scene in Ireland, we present the books that made it on sale from September on. Beginning in September we saw a number of books for the first time at the DICE event in Dundrum and it led to a busy end to the year.
September
DOT Comics Tales From The Void was one of those books that hit at DICE and in turn was a hit. Written by Darrin O'Toole and art by A. Kaviraj and drawing influences from the old EC horror books of the fifties, the vintage sci-fi books of the 80's and  sprinkled with some good old originality, O'Toole crafts five tales in this great anthology book.


Review: http://www.irishcomicnews.com/2012/10/review-dot-comics-tales-from-the-void/
Buy it: http://www.comicsy.co.uk/dotcomics/store/products/tales-from-the-void/
The Celtic Clan #1 written by Nigel Flood and artwork by Frank J Right was another DICE release. The comic stars Ireland's  premier super-powered team who have a secret base underneath Newgrange  and fight an ongoing battle with an ancient  race of shape-shifting  reptilians who call themselves The First Race and was a comic produced through Fund It.


Review: http://www.irishcomicnews.com/2012/10/review-punt-press-celtic-clan-1/
Buy it, see for info: http://www.facebook.com/#!/groups/CelticClan/
Doing the rounds at DICE was Nicolo Cassidy's Bad Craziness which being handed out rather than being sold. This mature audience horror book read smoothly and was very entertaining across the books short stories.
Web Site: http://www.nicolocassidy.com/
O'Brien Press released Gerry Hunt's newest graphic novel At War With The Empire: Ireland's Fight For Independence in September. A follow up to his wildly successful Blood Upon The Rose this book was as educational as it was riveting.


Review:  http://www.irishcomicnews.com/2012/10/review-at-war-with-the-empire-irelands-fight-for-independence/
Buy it: http://www.obrien.ie/
Artos #1 was the first of two writing credits this month for Mike Lynch who penned this expansion tale in the shared universe of The Wren with art by Jason Connor. Telling the tale of a curious child called Conor, a descendant of the original watcher of the Ailwee Caves, the issue unleashes a series of events that draws the attention of a Black Sidhe and Conor becomes Artos in a breathless tale from cover to cover


Review: http://www.irishcomicnews.com/2012/10/review-artos-1/
Buy it: Forbidden Planet Dublin
The second credit for Lynch was the conclusion to the two issue mini series Nestor #2. With Paul McCallan stepping aside on art duties for Anthony O'Neill to take over for this issue. The story kicks into high gear with a killer ending leaving Nestor a fond memory from this year.


Buy it: http://www.abandonedcomics.com/store/
Tommie Kelly's  The Holy Numbers #4 was the final issue in the first volume of the series. In issue four Doyle is distraught after the murders at the Holy Numbers Centre and needs to talk to Nolan. Ravensdale murderer finally begins to talk.


Buy it: http://www.theholynumbers.com/
October
October was almost as busy as September with Atomic Diner releasing two books this month in League of Volunteers #3 and Crimson Blade #1. Both books take place in this expansive universe that is taking shape over at the Diner. League was written by Rob Curley and art shared by Barry Keegan and Rob Carey while Crimson Blade was written by Curley with art by David O'Sullivan.


Crimson Blade Review: http://www.irishcomicnews.com/2012/10/review-crimson-blade-1/
But them: http://www.atomicdiner.com/products/
And The Blood Flowed Green was the final O'Brien Press book in Alan Nolan's 'Murder Can Be Fatal' series of books and they have saved the best for last. Telling the tale of Mick Mulligan who is stranded in outer space and longs to return home, the book is brilliant in its humour and delights with its easter eggs and smart visuals.


Review: http://www.irishcomicnews.com/2012/11/review-alan-nolans-and-the-blood-flowed-green/
Buy it: http://www.obrien.ie/
Stray Lines is an anthology of work by Irish cartoonists.  It was released through Cardboard Press and funded by crowd-sourcing website Fundit.ie and conceived as an opportunity to showcase some of Ireland's most exciting and original indie comic creators together.


Paddy Lynch Interview: http://www.irishcomicnews.com/2012/11/the-big-interview-colin-omahoney-speaks-with-paddy-lynch-about-the-new-stray-lines-anthology/
Review: http://www.irishcomicnews.com/2012/11/review-stray-lines-anthology/
Buy it: http://www.cardboardpress.com/stray-lines/
The Holy Numbers Vol ume 1collected edition was an October release collected the four issues so far and included in the 93 page PDF which is packed full of extra features and a previously unpublished Chapter, is available to purchase for any amount you desire!


Buy it: http://www.theholynumbers.com
Resonance was a five part web comic that ran on ICN in October created by Tommie Kelly telling the story of a man who spends his life on an island trying to discover who he is.


Read it: http://www.irishcomicnews.com/category/news/comics/resonance/
November
Have You Seen The Invisible Man is a graphic novel released in November written by Dave West art by Northern Ireland's Joe Campbell. This is Joe's first major UK graphic novel and it was launched at the Thought Bubble Comic Con in Leeds.


Take A Look Inside: http://www.irishcomicnews.com/2012/11/take-a-look-inside-joe-campbells-have-you-seen-the-invisible-man/
November saw the release of Coimici Gael's Irish language anthology book RíRá #4 featuring the work of Alma Ryan, Alan Nolan, Bob Byrne, Philip Barrett, Elida Maiques, Fintan Taite, Davy Francis, Maeve Clancy, Stephen Downey. It was also in November that Coimici Gael secured national distribution to shops for RíRá.


Review: http://www.irishcomicnews.com/2012/11/review-rira-4/
Buy it: www.coimicigael.bigcartel.com
Ryan O'Connor and Naomi Bolger's The Helix #2 was released in November at Eirtakon. A comedic and generally irreverent series regarding a group of superpowered teenagers who find themselves drawn into a team and fighting crime.


Buy it: http://naomibomb.bigcartel.com/product/the-helix-comic
Uproar Comics gave us Zombies Hi! #7 in November and the lix of prose and sequential work within keeps the story tense and flowing in Derry where life carries on as normal as it can in the face of a zombie apocalypse.


Review: http://www.irishcomicnews.com/2012/11/review-zombies-hi-7/
Buy it: http://www.uproarcomics.co.uk/shopping/
Hot on the heels of the end of volume one of the story Tommie Kelly released The Holy Numbers vol. 2 #1. The events of volume 1 have taken their toll on everyone while Thomas Nolan begins to see the truth of what has happened to him.


Buy it: http://www.theholynumbers.com
December
Com.X will release Babble on December 19th written by Lee Robson and art by Northern Ireland's Bryan Coyle. Saved from being shelved by Com.X after Insomnia Productions went bust this book will finally see the light of day this month.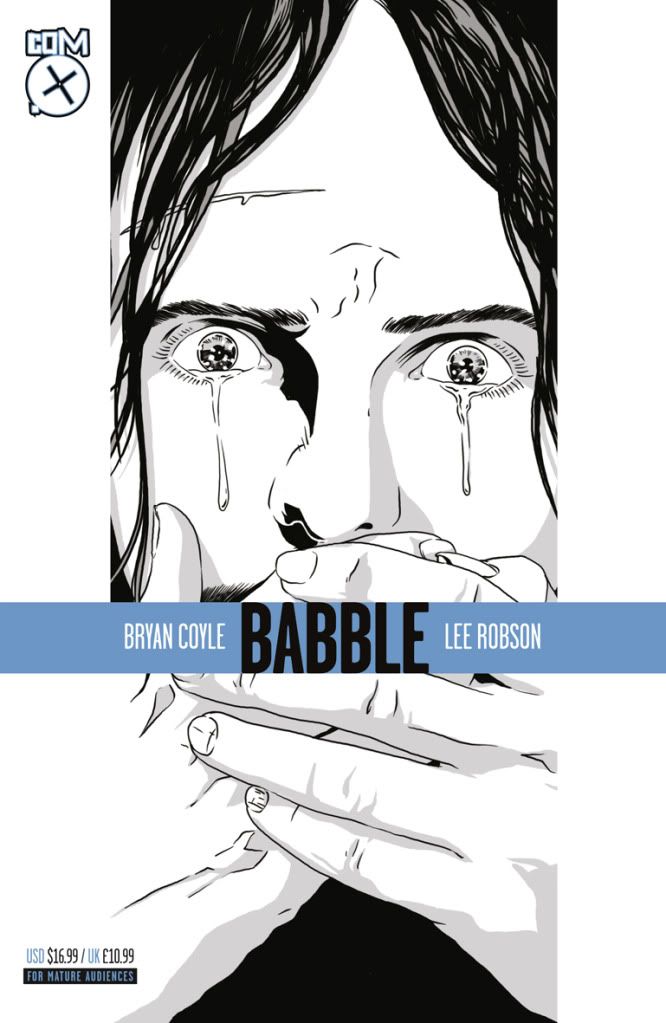 Review: http://www.irishcomicnews.com/2012/11/review-com-x-babble-graphic-novel/
Buy it: www.amazon.co.uk from December 19th
Well folks, that's it. We saw a ton of great work this year and next year promises more of the same. Stay tuned to ICN for all the breaking news, reviews and promos and thank you to everyone for your continued support.